Officer's private kindness becomes big news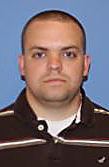 See the coverage: WRTV – WTHR – WXIN
UIndy Police Officer Doug Doan wasn't trying to be a hero when he took some toys to a local family facing tough times, but his act of kindness certainly has drawn a lot of attention.
Doan met the family, with its three young boys, this week while working his third-shift beat around campus. Without sharing too many details, he said he was touched by the boys' situation and their proximity in age to his own son. He returned the following night with three superhero action figures to present as gifts.
The boys' relatives recorded the visit in photos and video and shared them Wednesday night with local TV stations, which promptly put the images on their websites and on the air. Today, with the heartwarming tale still gaining traction on social media, reporters were calling the university to get Doan's side of the story, but he was back at his Anderson home and not eager for the spotlight.
"It was no big deal," said the officer, who has served at UIndy for just over a year. "They are going through a hard time, and I wanted to do something to help. My son and I picked out a few toys to give to the three boys in the home. I just wanted to put a smile on their faces."