Athletics: Football faves and soccer service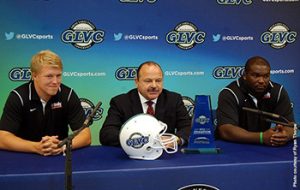 The 2015 Greyhound football season is only a month away, with opening games Sept. 3 at home against Saginaw Valley State and Sept. 12 across town at Marian University.
For the fourth consecutive year, UIndy is favored to rule the Great Lakes Valley Conference, according to preseason coaches poll results announced Friday. Fifteen starters are returning from last year's 9-2 GLVC Championship squad. (Not to brag, but UIndy has claimed the championship each year since the conference began sponsoring football in 2012.)
Visit the Athletics website for the full schedule, roster and a season preview video with head coach Bob Bartholomew, quarterback Connor Barthel and defensive lineman Lee Campbell.
*               *               *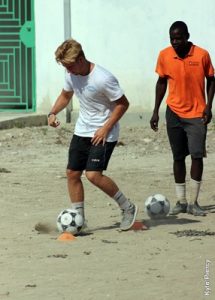 Community service is nothing unusual for Greyhound student-athletes, but the men's soccer team is certainly going the extra mile this summer.
This week, head coach John Higgins, 15 players and several UIndy staffers are in Haiti, where they are building a soccer field ("football pitch"), conducting youth clinics, bonding with local residents and appreciating the richness of a land and culture more often noted for poverty.
Follow their progress and see photo galleries at the Hounds in Haiti blog, where midfielder JT Hiquet and forward Zak Mitiche are writing about their experiences.