Student project pits music against dementia
A creative capstone project developed by a UIndy graduate student is bringing smiles — and maybe something more — to residents at a Franklin nursing home.
Laura Haw, who is pursuing a Master of Science in Gerontology through the Center for Aging & Community, wanted to study the effect of music on people with dementia. She was inspired by a documentary film on the topic as well as her own grandmother's experience with Alzheimer's disease.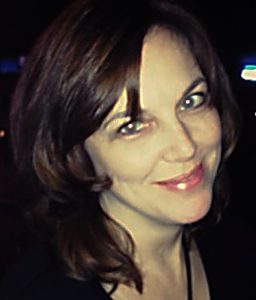 "Often, music triggers these positive memories," says Haw, who until recently worked as an administrative assistant at UIndy's School for Adult Learning.
A resident of Franklin, Haw proposed and received a $2,150 grant from the Johnson County Community Foundation, which she used to purchase 43 MP3 music players and headphones for elderly residents of the city's Indiana Masonic Home. Working with the staff and family caregivers of the dementia patients — and with help from her husband — she gathered information on each one's musical tastes, purchased the music on Amazon, and gave each participant an MP3 player loaded with a batch of popular holiday music as well as their own favorites.
"A lot of big band, a lot of gospel," she recalls. "There was a lot of country, too. Johnny Cash was a favorite, Frank Sinatra. There were a lot of people who wanted Elvis songs."
This fall, three times a week for six weeks, the participants listened to their personalized music mixes. Anecdotally, at least, the results have been striking, even for those who seldom speak or respond to the world around them."
"You just see such changes in their facial expression," one Masonic Home staffer told the Daily Journal of Johnson County. "They might be sitting there waiting for dinner with nothing to do, but you put the music on, they're smiling, they tap their feet, nod their heads."
Logs have been kept, and now Haw plans to see if the music therapy produced tangible benefits, such as improved eating or sleeping. She will present the results next semester.
You can read the Daily Journal story and see several charming photos here.
Haw also writes about aging issues at agingsuccess.weebly.com.