Speaker to discuss water crisis, youth activism
Raised in Indianapolis, Seth Maxwell now spreads message around the world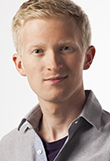 The leader of a nonprofit group that brings clean drinking water systems to Third World communities will discuss his work April 15 at the University of Indianapolis.
Seth Maxwell, a graduate of Franklin Central High School, is co-founder and CEO of the Thirst Project, a Los Angeles-based organization that has raised over $8 million and established more than 1,000 water projects in 13 nations. An actor by trade, he also keeps a busy schedule of public presentations to inspire and motivate young people to get involved in social justice issues.
Maxwell's presentation, titled "Think Big, Do Big," will begin at 3 p.m. Friday, April 15, at the Christel DeHaan Fine Arts Center, 1400 E. Hanna Ave. Admission is free to the event, organized by UIndy's Professional Edge Center.
According to the Thirst Project, nearly a billion people lack reasonable access to clean water, stifling agriculture and economic development in their communities. More than 4,000 children younger than 5 die each day from waterborne diseases, and millions of women and children must walk for hours each day to reach the nearest water source.
Maxwell serves the U.S. Department of State as a speaker on international programs. He has presented at hundreds of schools and churches and events including the TEDxHollywood Youth Conference, the Nexus Global Youth Summit, the Envisions Global Youth Leadership Conference in Washington, D.C., and a White House meeting on activating the millennial generation to work for social change. More information on the Thirst Project is available at www.thirstproject.org.
UIndy's Professional Edge Center assists students from all academic areas to identify career pathways, interact with business professionals and develop professional and interpersonal skills. More information on the center and the April 15 event is available at proedge.uindy.edu or (317) 788-3923.