Professor portrayed on Chicago stage
UIndy Theatre alumna has key role in fact-based plane crash drama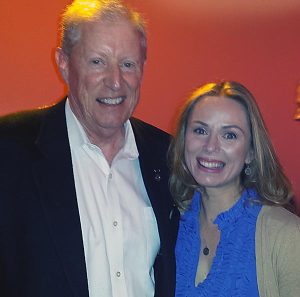 Dr. Greg Clapper had the unusual experience recently of seeing an unforgettable episode from his life recreated on stage.
United Flight 232, the new production from Chicago's House Theatre company, tells the story of a 1989 airliner crash in Sioux City, Iowa, where Clapper, an ordained minister, tended to the victims and rescuers (read more here). He wrote a book about the experience, which also has been recounted in other books and dramatic productions.
The UIndy Religion professor was impressed by the play – as was a critic from the Chicago Tribune – and enjoyed meeting Rudy Galvan, the actor whose character is based on him. He also discovered, remarkably, that the central role of the chief flight attendant is played by 2002 UIndy graduate Brenda Barrie, considered a rising star on the Windy City's theater scene.
The production continues through May 1 at the Chopin Theatre on Division Street. More details are here, and the director mentions here how Clapper's insights on the tragedy informed the project.