UIndy volunteers boost Perry Cultural Festival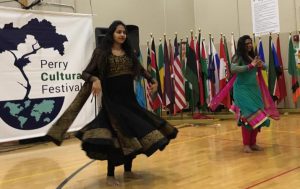 UIndy students Jinali Shah (left) and Aakanksha Bhagwal perform traditional Indian dance during Saturday's Perry Cultural Festival at the Baxter YMCA. Not pictured is Aniketh Chavan.(Photo courtesy Perry Cultural Festival)
The second annual edition of the Perry Cultural Festival drew some attention over the weekend, thanks in part to significant involvement by the UIndy community.
The event Saturday at the Baxter YMCA celebrated the diversity of Indy's Southside, with food, music, dance, crafts, a soccer tournament and other family-friendly attractions representing the cultures of local residents, including German-American, African-American, Latino, Chin and others. Perry Township Schools also partnered in presenting the event. The Indianapolis Star has a story and photos here.
Among other contributions, UIndy's Center for Service-Learning & Community Engagement, Professional Edge Center and Team Business assisted with general planning and organization as well as recruiting volunteers, securing sponsors, organizing vendors and other needs. Faculty and students from the Department of Art & Design created the logo, signs, banners and other branding for the event. Former UIndy staffer Marylynne Winslow co-chaired the festival.
See other photos and video at the festival's Facebook page and in the Southside Times.