UIndy Music Education program kicks off 2017 with national honors
The University of Indianapolis chapter of the National Association for Music Education (NAfME) recently was named the Outstanding Collegiate Chapter of the Year for Indiana. The honor is the fourth time the local chapter has received the award.

The NAfME award recognizes the University's community outreach efforts to bring future music educators into classrooms, along with the program's achievements throughout the year. University student-teachers impact up to 700 Indianapolis Public Schools students every year by assisting teachers in classrooms. The local chapter received the award at the Indiana Music Education Association/NAfME conference this month in Fort Wayne.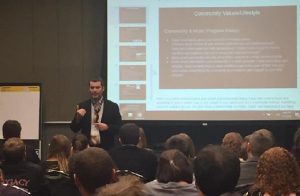 The recognition "validates everything that we as a faculty do and helps put UIndy on the map. It sets us apart from other universities," said Brenda Clark, chair of the University of Indianapolis Music Education Department.
In addition to the chapter awards, juniors Charissa Catlin and Shaina Liv Lescano, both  instrumental music education majors, were two of five undergraduates from Indiana to receive the Outstanding Future Music Educator Award. With these awards, the University now boasts a total of 16 music education students who have been honored in the past decade.

"It's very rewarding to be recognized for this sort of award, and I'm so honored to have been chosen to receive it. I think UIndy has prepared me extremely well to become a music educator," Catlin said.

Lescano said the University music education program has provided her many leadership opportunities she otherwise would not have experienced.
"I feel that the University of Indianapolis has helped me grow so much. I have become confident in myself and have learned how to be professional in the field," said Lescano, who also serves as CNAfME president.
Clark credited the award and success of the program to the commitment of students to giving back to the community.

"That's really the heart of our students. They do things not just for IPS but for other schools in the area, and that is one of the primary reasons our students receive those individual awards," Clark said.

"It offers our students real-life experiences that they will take advantage of when they're in the profession," she added.

Program alums like Michael Richardson ('10) agree the program has given him a distinct advantage as he launched his career. Richardson was the first University of Indianapolis student to receive the Outstanding Future Music Educator Award and is now in his seventh year of music instruction, currently the director of bands for the Benton Community School Corporation based in Fowler, IN.

"I believe the education I received at UIndy prepared me as much as possible," Richardson said. "There are a lot of aspects of teaching that must be learned through experience, but I was well-prepared in content knowledge when I got my first job."