University of Indianapolis professor explores Midwestern winery boom in new book
If you've ever dreamed of quitting your job to start a winery, you'll first want to read Jim Pennell's Local Vino: The Winery Boom in the Heartland.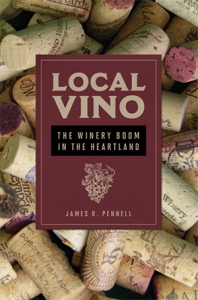 Pennell, a professor of sociology at the University of Indianapolis and Co-Director of the Community Research Center, explores the challenges and rewards of operating a winery in his new book published by the University of Illinois Press. Now in his 19th year teaching at the University of Indianapolis, Pennell specializes in social and institutional change, organizations and work, social theory and qualitative research methods.
"I wanted to honor the winery owners. They've done an amazing thing," said Pennell, who spent five years chronicling the success of Midwestern wineries in Indiana, Illinois, Iowa and Ohio. He visited 64 wineries in the course of his research.

Spurred by the desire to educate people on what really goes on in the wine-making industry, Pennell interviewed more than 40 winery owners and industry specialists who shared their insights on the challenges and rewards of growing grapes, wine-making, distribution, and building a business. Along the way, he documents the beauty of winery settings and the niche wineries are carving for themselves in rural and urban communities.
One key take-away from the book is that running a winery is extremely hard work.
"Owning a winery looks like the greatest job in the world. When you really go and talk to people who are doing it, they're saying it's 70 or 80 hours a week," Pennell said.
Pennell interviewed those dedicated winery owners who represent a growing economic phenomenon in rural communities. He offers some impressive numbers: since 2003, the number of wineries in Indiana has more than quadrupled, totaling 80 by December 2015. Other states boast even more, with Ohio at more than 200 wineries.
"As this industry develops, it's opening up opportunities for people," Pennell said, noting new employment opportunities related to the industry, including sales, the tasting room and front of house, as well as wine-making itself. "It's providing a different kind of opportunity that previously was only available in California."
Local Vino shines a spotlight on what Pennell calls a tremendous economic and cultural asset.
"These are economic engines, and some of them [are in] economically depressed areas. Some of them have been in families for generations, and they're keeping the farm and being successful. Some of them are part of urban revitalization."
Now wineries are becoming a focal point for social gatherings in rural communities as they bring producers and consumers together – all while answering Pennell's question: "How can we make interesting places in rural settings that are worth a trip?"
"Every winery owner I talked to said that drinking wine is an experience. It's not just a beverage," Pennell said.
Look for Local Vino: The Winery Boom in the Heartland in bookstores and at online retailers starting March 6.