Honors College students present research at national conference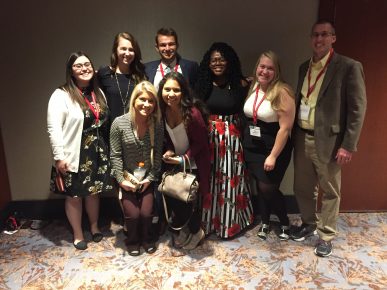 Students in the Ron & Laura Strain Honors College recently participated in the National Collegiate Honors Council (NCHC) Conference in Atlanta, a national event to showcase the benefits of honors education and research.
Casey Wendorff '18 (biology, chemistry minor), Kaity Sullivan '18 (accounting and mathematics) Sierra Corbin '17 (biology, chemistry minor) and Delmar Oropeza '17 (biology, chemistry minor, pre-pharmacy concentration) presented research posters. Dierra Barlow '20 (theatre, psychology) and Zoe Cunningham '20 (theatre) performed in a drama master class. Lauren Bryant '18 (biology and psychology) acted as a moderator during the conference.
Jim Williams, director of the Honors College and associate professor of history, led several sessions on Honors advising. He highlighted the unique experience for students to travel to a national conference and represent the University of Indianapolis.
"It allows them to showcase the hard work they've done on their original scholarship, which is great for their professionalization, and they see the kind of work honors students and colleges are doing across the country," Williams said.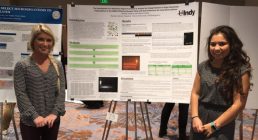 Corbin and Oropeza received a research grant from the Sigma Zeta National Honor Society and presented their results at the conference. The grant funded materials critical to their project, which set out to determine a procedure to test for a genetic marker for the taste preference of cilantro.
"The experience at the conference was beneficial. We received feedback from judges so that we could improve our skills presenting scientific research. It also was quite interesting to see what other students around the United States study," Corbin said.

The students worked with Sandra Davis, associate professor of biology, who suggested the idea.
"I really enjoy watching students go from doing simple lab activities as part of a class to taking ownership of their own project.  This is one of the opportunities that UIndy is able to offer that students might not get at a larger school. I hope to use their project in my classes and I have already had faculty from other universities express interest in using it as well," Davis said.
Learn more about the Ron & Laura Strain Honors College at UIndy.

Corbin said the Honors College's focus on presentations helped her develop skills in explaining complex topics to an audience that may not have specific knowledge of that subject. Her career goal is to become a physician assistant.
"I am sure I will need to explain to patients what an illness may be, what caused it and how to treat it," she said.
The research component of Honors College also was integral to their skills development, the students said.
"The research experience and the Honors College in general allowed me to expand my learning and communicative capabilities, especially in public speaking. There was a lot of reading and interpretation of papers that took place, which allowed me to expand my analytical intake," said Oropeza, who plans to attend pharmacy school following graduation in December.
"At UIndy, the teachers genuinely care about our academic success. Some of our courses definitely are harder than they would be at other schools, but that makes us more prepared," Corbin said.