UIndy Artist-in-Residence Drew Petersen receives prestigious grant

University of Indianapolis Artist-in-Residence Drew Petersen is one of four recipients of the Avery Fisher Career Grant worth $25,000. Petersen is also the 2017 American Pianists Awards winner and a Christel DeHaan fellow.
The grants give professional assistance and recognition to talented musicians who have been identified as having great potential for solo careers, according to the Lincoln Center website. Recipients of 149 Career Grants awarded include pianists Jonathan Biss and Yuja Wang, clarinettist Anthony McGill, violinists James Ehnes and Hilary Hahn, and the Dover Quartet.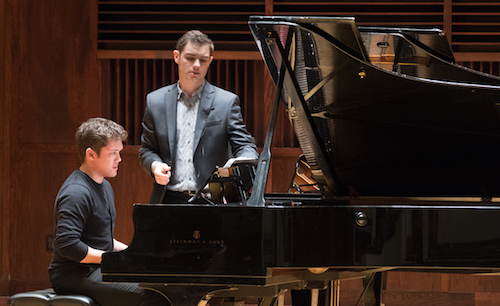 A cum laude graduate of Harvard University in social sciences, Petersen pursued undergraduate and graduate studies in music at the Juilliard School. He also has been a prizewinner in major international competitions and has been profiled in the New York Times, New York Magazine and the documentary Just Normal.
He was last on campus in February 2018, where he hosted a masterclass with University of Indianapolis students and performed a solo repertoire and concerto collaboration with the University of Indianapolis Chamber Orchestra.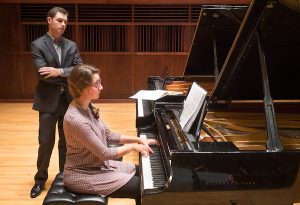 Petersen said interacting with the talented music students on campus has been one of the biggest rewards of his new connection to the University.
"Whenever I interact with the students and faculty, I am reminded that each day at UIndy is an opportunity to explore great music together and examine and innovate the best ways we can share it with the community. I've been having a great time, and I look forward to all that lies ahead," Petersen said.