One on one with Juliana Rohrmoser

A visual communication design major, Juliana Rohrmoser '18 recently took home three Indiana Collegiate Press Association state-level journalism awards for her work at The Reflector and The Reflector Online, including:
Best Sports Photo, First Place, "Football Keeps Breaking Records"
Best Sports Photo, Second Place, "Football Ends Historic Season with Playoff Loss"
Best Informational Graphic, Second Place, "Travel Ban Impacts UIndy Community"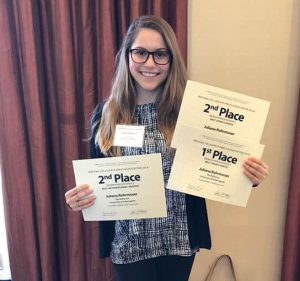 Rohrmoser, who is an international student from Costa Rica, is a familiar face at the Department of Integrated Marketing & Communications (IMC), where she is a student worker assisting in graphics creation, social media management and digital content. She was honored as international student speaker at the annual Celebration of Flags in October 2017. Rohrmoser will pursue an internship with Cook Medical for the summer and has applied for graduate school. 
Q: What's your hometown? What kind of travel experience did you have before coming to UIndy?
I am an international student from San Jose, Costa Rica. Before coming to UIndy I had visited the U.S several times. I've been to Florida, New York, and I played soccer at a tournament in Minnesota during high school and participated in a dance competition in Chicago as well. I've also traveled to South Africa, Zambia, Brazil, Panama, Mexico, France and Italy.
Q. Why did you decide to attend UIndy?

I decided to apply to UIndy because my dad had previously been to Indianapolis and loved the city. I found UIndy and really liked that the campus wasn't too big or too small. When I looked into my major I was drawn to the way the curriculum was set up. I would have the opportunity to take drawing, painting and communication classes while working on graphic design as well.
Q. What has your UIndy experience been like so far? How would you describe the international culture at UIndy?

My experience at UIndy has been nothing short of amazing. I have met some fellow students, faculty and staff that have been very welcoming and who have helped me succeed in every project I take on. The UIndy community really appreciates international culture, not just because it's "cool" that we're from a different country but everyone really understands the value of having different cultures present on campus. It's great to have events like the Celebration of the Flags, cultural presentations and even foreign language classes that bring the community together.
Slideshow: Meet the Class of 2018!
Q. What is your advice for domestic students who might not have much experience with other cultures?

I think in order for every UIndy student to make the most out of their educational experience, they have to engage with an international student. Even if it's by being in the same group in a class, you'd be amazed to see the different perspective an international student can give you. From giving examples of how something is done in their home country to adding points of interest with facts about a different demographic, I know students and professors appreciate seeing cultural diversity.
Q. What do you think students on campus can do to understand the international perspective?

I think domestic students should try and understand what an international student goes through. They are away from their families and their homes. Basically everything that they were used to growing up is different when they're here. What would you do if you couldn't reach your parents in a situation where you really needed their help? Doing your insurance paperwork, paying bills without guidance and – oh my goodness – tax season!
Q. What activities are you involved in outside the classroom?

Outside of the classroom, I currently hold two on-campus jobs and one internship. I have been a student worker for IMC (UIndy Integrated Marketing & Communications) for almost two years and this opportunity has given me outside of the classroom experience in the field that I would like to go into after graduation. I also am the art director for The Reflector, our student newspaper at UIndy. I have also worked for the football team, the Writing Lab and the Professional Edge Center. I also have an internship at Raybourn Group International, an association management company located in the north side of Indianapolis. I have worked there since May of this year. I also participate in the UIndy Connectors program, regularly attend sports events and community service opportunities on- and off-campus. All of these experiences have contributed to making me a well-rounded student. I have made some great connections that have helped me during these past three years and will definitely be an important part of finding a job in the U.S. after graduation, which is my goal.
Q. Are there any professors, staff or students who have made your UIndy experience special?

Everyone I've met has made an impact on my experience, to be honest!
The Department of Art & Design has played a huge role in preparing me for jobs and internships, especially Julia Taugner. With every communications or design position I've held, they've all been impressed by my skill set.
I also have to credit IMC. I started as a student worker and now I've grown to become an active member of the team. This has given me opportunities to work on graphic design, learn about social media communications, event photography and even some content development for UIndy!
The Professional Edge Center has also helped me by guiding me through creating my resume, applying for internships and starting to apply for jobs after graduation. The team there is very welcoming and ready to help any student succeed and make the best of their experience.
Q. Why is an international perspective valuable in the workplace?   

International students are important to have as members of your community. They provide a different perspective, new knowledge, maybe solutions you wouldn't think about because they've experienced different things. They also are a valuable member of the team because they expand people's viewpoints. It's so important to open your school or company to diversity. Different cultures add so much value to a community because they make people come together and learn from each other.