R.B. Annis School of Engineering donates PPE to Indianapolis healthcare workers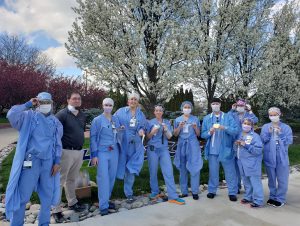 The R.B. Annis School of Engineering is putting expertise and resources towards the fight against COVID-19 (novel coronavirus). James Emery, laboratory manager for mechanical systems, is printing face shields for St. Vincent Indianapolis emergency room healthcare workers.

"I asked some friends who are nurses if their emergency room would be in need. They are parents that I met through Indiana FIRST while mentoring a team," Emery said. He has also been approached by a local fire department.
The design was provided by a 3D printing machine manufacturer that is producing the shields for local hospitals in Europe. Emery researched the need for face shields during the COVID-19 crisis and notes that the design has been vetted. He has registered with national initiatives to assist in the manufacturing of personal protective equipment for first responders. 
"During this pandemic, there are so many nurses and doctors who are working tirelessly to help the population," Emery said. "I found that the 3D printing community was stepping up in huge ways to try and help."

Emery had enough materials to manufacture about 50 face shields. He delivered them to St. Vincent in April.

"As we are left at home while the first responders, doctors and nurses are out every day trying to help the individuals that have been infected with this virus," Emery said, "I wanted to do my part to help them."

Emery is continuing to produce face shields and is planning to donate more as he is able to manufacture them.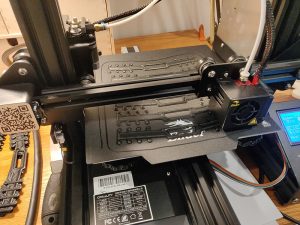 Paul Talaga, assistant professor of engineering, used a 3D printer to manufacture "ear savers" for healthcare workers on the frontline. The device attaches to the elastic straps of the mask to alleviate discomfort. To reduce the danger of contracting the disease, healthcare workers must wear a mask at all times when working with patients.

Talaga has delivered 100 ear savers to four Indianapolis-area hospitals.