UIndy Students Take Service-Learning Global with Spring Term Trip to Dominican Republic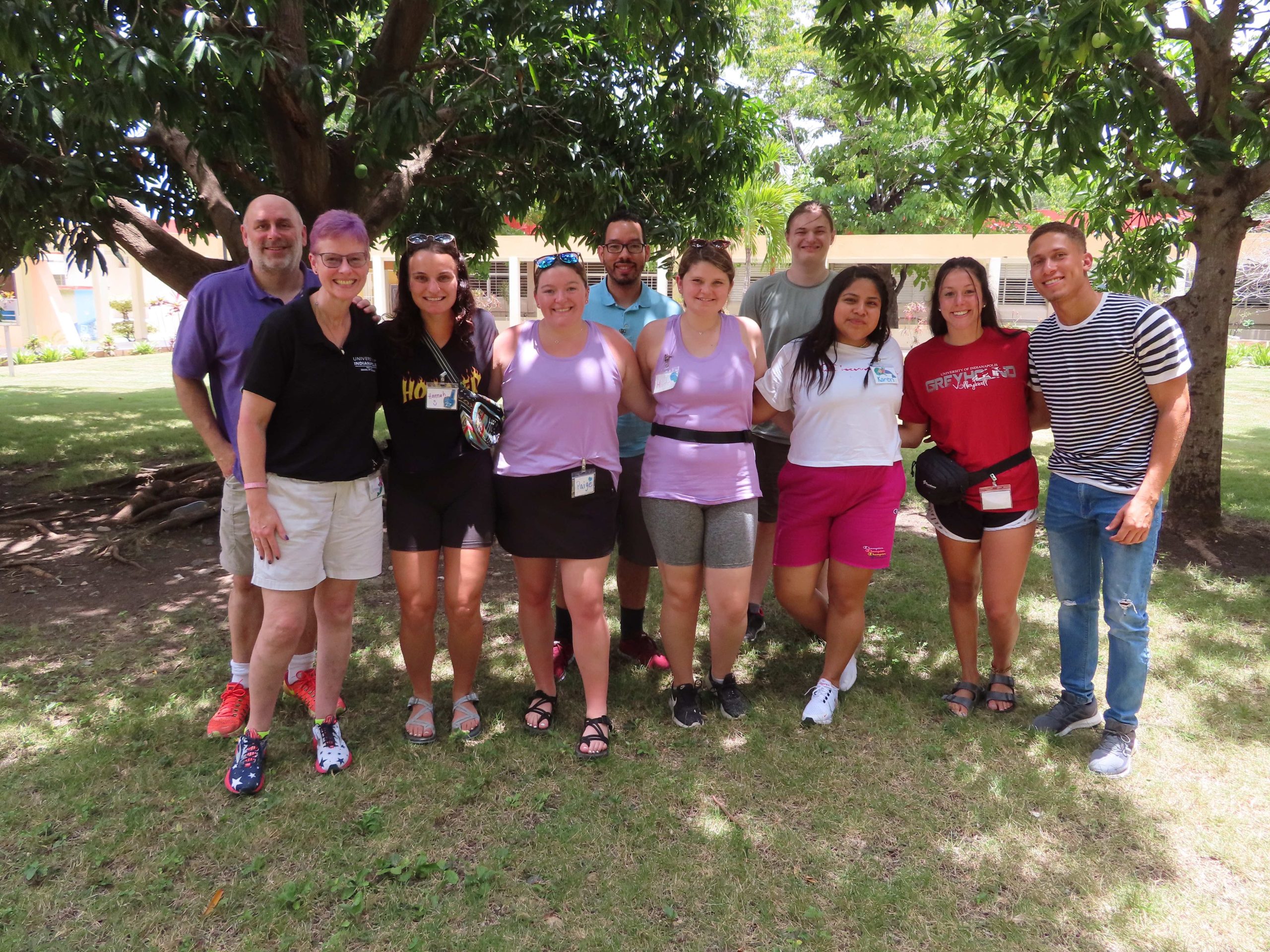 UIndy students traveled to the Dominican Republic this past May as part of Spring Term 2022. In addition to exploring the country's capital, the students also participated in a service-learning project in collaboration with Southern Utah University and organized by Solid Rock International.
Dr. Ken Reid, associate dean and director of the R.B. Annis School of Engineering, led the trip along with his wife and Dr. Joan Martinez, assistant professor of engineering at UIndy. This was Dr. Reid and his wife's thirteenth service-learning trip to the Dominican Republic.
The group started their trip in Santo Domingo, the capital of the Dominican Republic, before traveling to San Juan de la Maguana. There, the group assisted with the final touches on a newly-constructed medical clinic that will provide affordable health care to the neighborhood. Throughout the week-long trip, the UIndy students also assisted a group of medical students from Southern Utah University as they ran mobile health clinics, providing immunizations, prescriptions and other medical care to a remote barrio with severely limited access to healthcare resources.
Hannah Burck '22 '25 (Psychology, Occupational Therapy) made one of her favorite memories from the trip when she participated in a clinic that was set up in the courtyard of an elementary school.
"At recess time, I was swarmed by about 20 third-graders who looked at me like I was an animal at the zoo," recounted Hannah. "They knew that I was American and I tried to explain to them that I only spoke a little bit of Spanish, using my little knowledge from high school Spanish classes. They laughed at my horrible Spanish, and even at my English, but I felt no judgment from them."
Out of the seven students who participated in this year's trip, about four spoke Spanish comfortably, which is unprecedented in Dr. Reid's experience leading trips to the Dominican Republic.
"We've never had more than half the students know Spanish, so when we went out to do work or service, we always had translators with us," explained Dr. Reid. "You know, you hear a lot of people say, 'Well, everybody speaks English' even in different countries, but that's really not the case in the Dominican Republic. There's very little English, and where they do speak English, it's a lot of very broken English."
But the language barrier didn't stop students from absorbing the experiences they had with the locals. Gillian Santana '24 (Public Health) accompanied a pastor who visited homes of those unable to travel and provided them with spiritual services.
"We were in the poorest area of the Dominican Republic, and it was very humbling to see the houses and where people lived," said Gillian. "One of the houses that we visited belonged to a lady who was 102 years old, and it was crazy to see that she was still in great shape and everything. It's just that their lifestyle is completely different from ours here in the U.S."
One of Dr. Reid's favorite things about leading the trip is getting to know the students, who come from all majors and years, and seeing their reaction to the cultural differences they experience.
"Our group didn't know what to expect, which is pretty common," said Dr. Reid. "Maybe they'd been down to a resort in the Dominican Republic before, but that is a totally different experience. So a lot of times, about midweek, our students would come back and they'd say something like, 'everybody's so poor, but everybody's so happy.' And they start to realize that while everything in the U.S. is based on what you can do or what you have, it's not like that at all in the Dominican. They also start to realize that one culture isn't better than the other, they're just different. It's great to see students go through this thought process as the week goes on."
Dr. Shannon Moore and Marianna Foulkrod will be leading another service-learning trip to the Dominican Republic over Thanksgiving break. Registration for the trip is currently open and Hannah and Gillian both encourage students to participate.
"If you are thinking about going on a trip, go," said Hannah. "It is worth it. I didn't know a single person going on the trip and yet I came home with a bunch of new friends who I still talk to. It's a great way to put yourself out there while also learning about a new culture."
"I would 100% want to go over and over and over again," said Gillian. "It was a life-changing experience. Obviously, traveling out of the country can be scary, but it was definitely worth every bit of my nerves. Definitely."
Students, faculty and staff interested in joining future UIndy-led trips, including the upcoming trip(s) to the Dominican Republic, are encouraged to explore their study abroad options online and to contact the study abroad advisor to start planning!