Erica and Corey '19: a Greyhound Love Story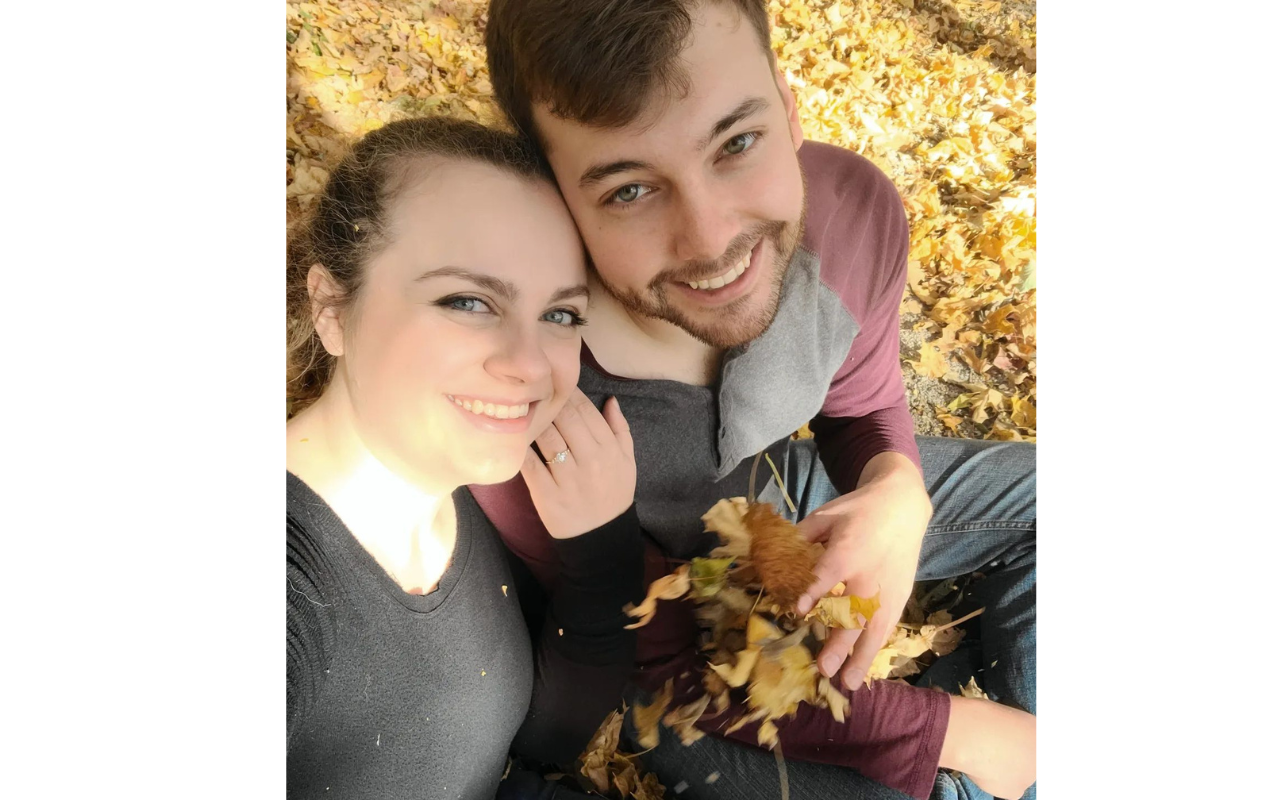 When Erica Granz '19 '21 (Psychology) and Corey Nack '19 (Psychology) decided to join a UIndy-led trip to Scotland in 2018, they had no idea that they would return as two Greyhounds in love.
The trip to Scotland over Spring Break 2018 was part of an English-420 class with a focus on Scottish Literature, with UIndy faculty members Molly Martin, Kevin McKelvey and Jen Camden, each teaching a different century of literature. Students were able to experience the settings of the works they were reading first-hand.
Erica and Corey nearly missed their international meet cute, but luckily the UIndy community convinced both of them to join the trip.
"One of my friends that I worked with in the Writing Lab told me about a cool class being offered by the English Department the following semester," said Erica. "He told me that the professors were great and that those in the class would get to travel to Scotland over spring break. That was enough to sell me on it!"
"I was interested in the trip because there was a travel scholarship available through the Honors College," said Corey. "I didn't sign up for the class because I had already taken a class trip at UIndy – the Camino de Santiago – and didn't want to hog all the travel opportunities. However, as the semester neared, I heard that the class was still trying to recruit a few more students. At that point, I signed up."
Erica and Corey had not crossed paths in a meaningful way prior to the class and didn't really interact within the class itself until the trip. Thankfully, the group of students was relatively small and participated in more casual activities like hiking on the trip, which allowed Erica and Corey to get to know each other a little better.
And the story continued even after they returned from Scotland.
"We started getting dinner together in the dining hall and found out that we had a bunch of mutual friends," said Erica. "We kept in touch when we were back home for the summer and started dating shortly after the fall semester started."
Four years later, Corey proposed and now these two Greyhounds are engaged! They currently plan to get married on April 20, 2024 – a palindrome, as well as the course number of the class that started it all. Both Erica and Corey will include fellow Greyhounds in their wedding parties. Erica's bridesmaids will even include her first ever roommate from her time in Cory Bretz as her maid of honor.
In addition to planning their wedding, Erica and Corey are also busy pursuing advanced graduate degrees. Erica is currently studying for a PhD in Experimental Social Psychology at Ohio University, while Corey is currently attending Purdue University to earn a PhD in Cognitive Psychology, with his anticipated graduation right after their wedding in 2024.
To their fellow Greyhounds who are balancing their education with their relationships, Erica and Corey have a few pieces of advice:
"Searching for a career or graduate school is a scary time, especially if a couple is pulled to different locations," said Corey. "It's difficult in the moment, especially when employment is uncertain. However, you can make it work. One step at a time."
"Don't worry about finding the perfect person, it'll happen in its own time," said Erica. "Neither of us was looking for a relationship when we met; it just happened. Beyond that, I'd say that working to maintain your relationships, both platonic and romantic, beyond graduation is important. You meet some great friends in school and it's easy to drift apart over time. Make sure you don't let that happen."
We hope the UIndy community will join us in wishing Erica and Corey a lifetime of happiness together! #GreyhoundsForever