Donor Scholar Luncheon Celebrates Impact of UIndy Supporters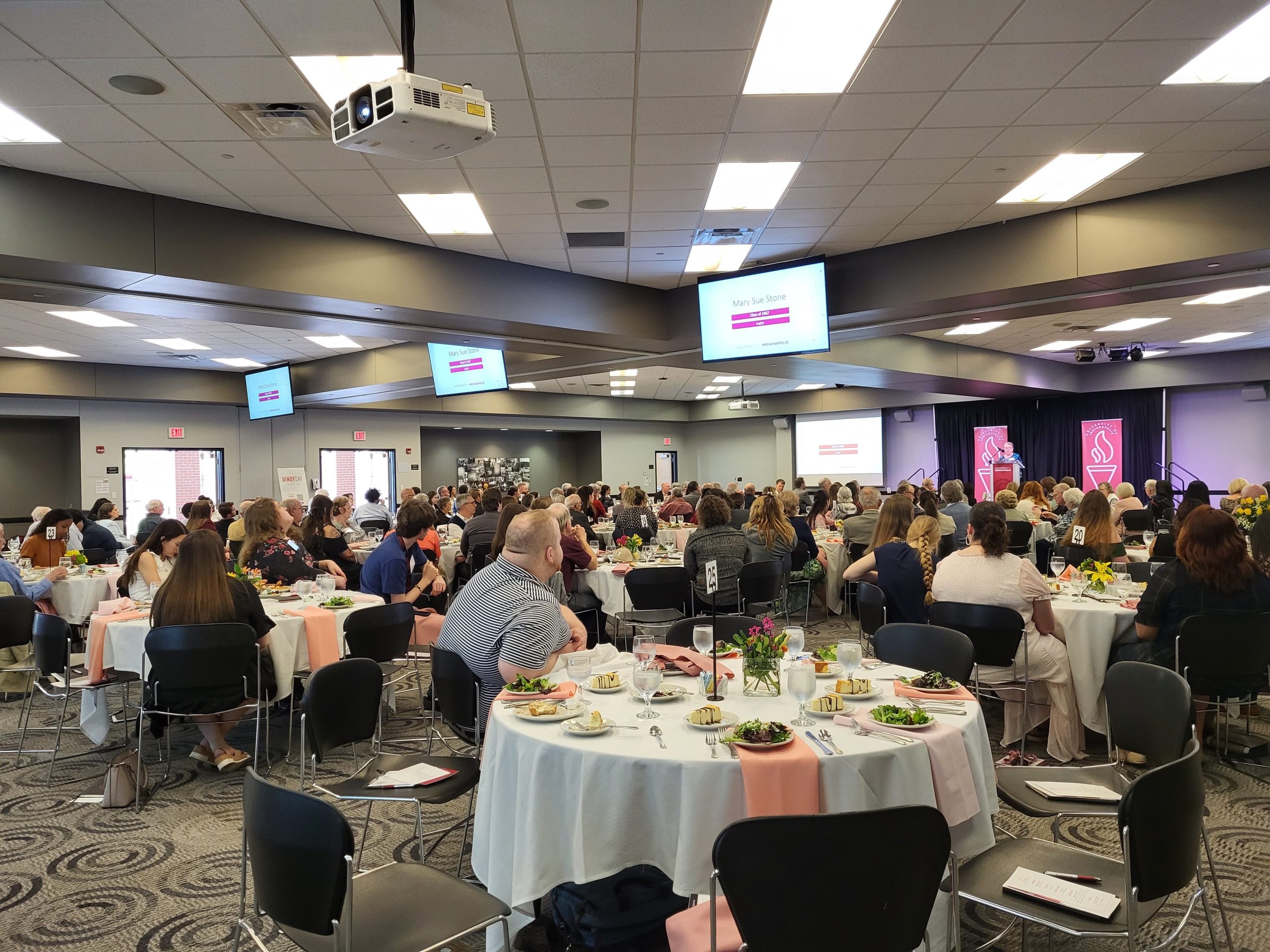 Last weekend, UIndy hosted the 2023 Donor Scholar Luncheon, an annual event that celebrates the impact of donors who generously provide scholarships and awards to UIndy students. The lunch gives donors an opportunity to meet the students they are empowering to attend UIndy, and the students the chance to thank their donors face to face.
UIndy students kicked-off this year's luncheon by presenting their research projects. Lainey Willis '23 (Business Administration and Management), a student of the Ron and Laura Strain Honors College, presented her research on promoting positive mindsets in a variety of audiences.
"I developed a program on promoting a positive mindset and gave presentations here at UIndy and in the local community," said Lainey. "If you have a more positive mindset, more positive things will happen to you. I figured I might as well spread a little positivity."
Philip Thornton, Vice President of Advancement, welcomed UIndy students and donors by highlighting the many achievements at UIndy since the 2022 Donors Scholar Luncheon, including the ABET accreditation of three undergraduate programs within the R.B. Annis School of Engineering, the women's lacrosse team winning the NCAA Division II National Championship, and the 50th anniversary of the Department of Criminal Justice.
"None of these successes would have been possible without each and every one of you in this room," said Thornton at the luncheon. "We cannot accomplish these great feats, these scholarships, these championships, without the support of our alumni and friends giving back to our Greyhound community."
Through the generosity of donors, UIndy is able to offer over 250 endowed scholarships, including scholarships that renew each academic year, to students of various majors and years.
Earning the Joan V. Persell Scholarship allowed RJ Craig '23 the opportunity to pursue any different interests, leading to his graduating this May with not only a major in Public Health, but also with minors in Experience Design and Theatre.
"I know that sounds like a mixed bag of curriculums that don't necessarily go together," RJ said in his remarks at the luncheon. "But because of the support of this University's amazing faculty and staff and the generosity of donors over the years, I was able to forge my own path and flourish in a community where I felt safe and secure to explore the possibilities available to me. This feeling of security would not have been possible without the financial support of donors whose scholarships covered the costs of my tuition, and room and board."
Scholarships and awards impact students in many ways, from covering their tuition each semester to empowering them to start their college career in the first place.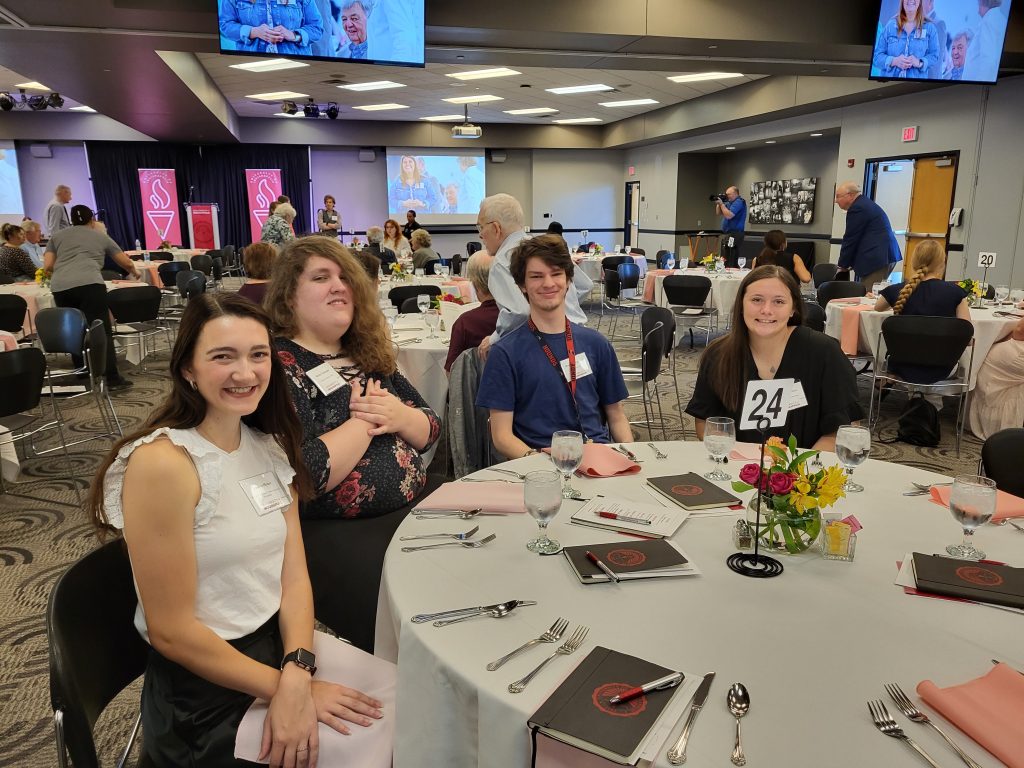 "As a recipient of the Presidential Scholarship, I don't have the extra worry about paying for tuition," said Benjamin Edwards '27 (Pre-Physical Therapy). "The scholarship takes off a little bit of financial worry and allows me to put my energy into things like applying for grad school. I'm really glad that the scholarship has given me the chance to breathe a little bit on my way into college."
"I needed a scholarship to even go to college in the first place," said Melia Trimmer '27 (Communication). "I received the Presidential Scholarship, and that's really the reason that I am here at UIndy."
"I am so happy to have earned this scholarship," said Jezalyn Hyzer '24 (Psychology), recipient of the Robert A. and June K. Simon Endowed Scholarship. "It was a huge confidence boost. I knew that if I could apply for and earn this scholarship, I could eventually get more competitive job opportunities and scholarships for grad school. I know I can do this now."

"When I found out that I was going to owe on my tuition, I was stressed," said Madisyn Proctor '23 (Education), recipient of the Paul L. Bailey Scholarship. "When you student-teach from eight to four every day, it's exhausting to have to find another job. So I'm very grateful to have been awarded this scholarship to cover my year. I'm able to go to school and focus on being the best teacher I possibly can be."
Mary Sue Stone '67 (English), donor for the Dr. Philip and Mrs. Clare Stone Philosophy & Religion Scholarship, the Mary Sue Everitt Stone Scholarship, and the Dennis Edward Stone Scholarship, shared the story of her father's involvement at the University, then known as Indiana Central College (ICC).
Mary Sue's father hadn't thought college was a possibility due to financial burdens, but representatives of ICC encouraged him to attend and assured him that his expenses would be covered. They gave him jobs here and there, asking him to run errands like the weekly trip to the bank to pay receipts, to cover the costs of his tuition and room and board. After four and a half years, and the constant support of the college's faculty and staff, Mary Sue's father earned his degree. He would go on to join the University's Board of Trustees.
"The University has a real concern for its students and a desire to help them stay and graduate if at all possible," said Mary Sue. "It is my hope, and my husband's hope, that scholarships in our name will provide some needed help to the students and the University the way my father received needed help when he came here."
To learn more about how your gift could impact UIndy and its students, visit uindy.edu/giving.