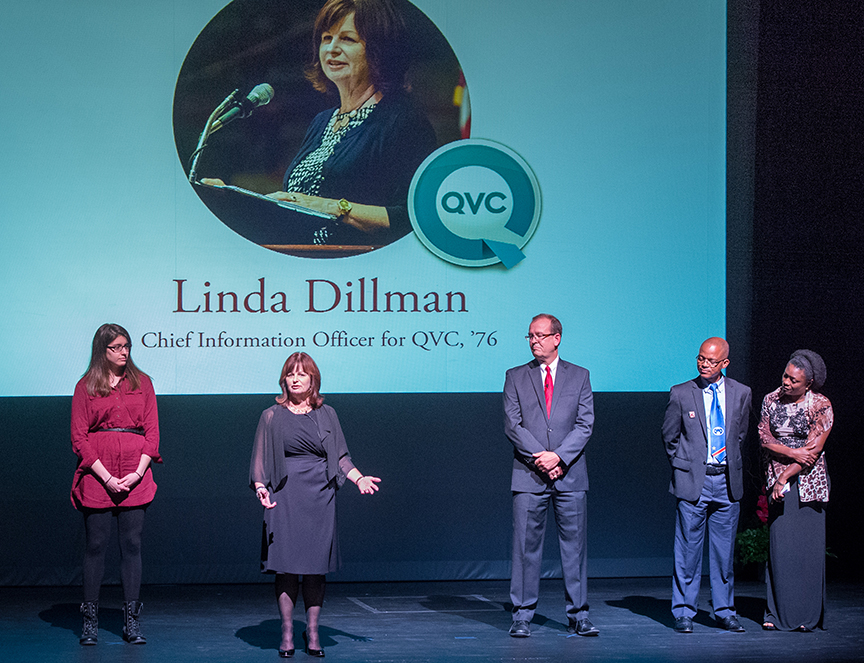 Friday's campaign launch event included appearances by accomplished alumni, including (from left) Francesca Zappia '15, published author of young-adult novel Made You Up; Linda Dillman '76, chief information officer for QVC; Jim Hurrell '84, director of the National Center for Atmospheric Research; and Faustin and Euphrasie N'Tala, who lead education initiatives in their home country, the Democratic Republic of Congo.
The Indianapolis Star
Indianapolis Business Journal
WXIN-Fox59
NUVO Newsweekly
Inside Indiana Business
University Business
Gift from local developer and wife will fund creation of poverty institute
The University of Indianapolis launched the public phase of a $50 million comprehensive campaign Friday night with an event at the Indianapolis Museum of Art that brought together more than a thousand members of the UIndy community and included the announcement of a major gift to establish a new interdisciplinary institute for the study of poverty.
The Gene and Mary Ann Zink Poverty Institute will be active in addressing the pressing public and social issues surrounding poverty while creating formative experiential learning opportunities for students. The funding will endow scholarships, faculty-guided undergraduate and graduate research opportunities, interdisciplinary study, special events, visiting speakers and faculty development activities.
"The Zinks have been vital partners with the university since the earliest conversations about our strategic plan, and their gift is an especially fitting way to introduce the Campaign for the University of Indianapolis," said Robert Manuel, university president. "This interdisciplinary center will convene talent from across the country to study and create interventions that counter the effects of poverty in our communities. In many ways, this is the future model that connects problems in the world with the education and research taking place inside universities."