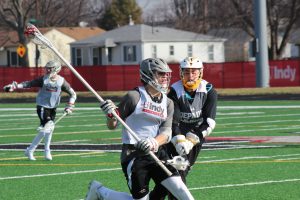 The UIndy men's lacrosse team hosted DePauw University for a scrimmage Feb. 6.
VIDEO:
Men's season preview
Women's season preview
Arcane rules may confuse new fans; athletics department offers help
A new era in Greyhound Athletics began Saturday when a team of female student-athletes played UIndy's very first intercollegiate game in a sport that is still unfamiliar to many Hoosiers and may pose a challenge for fans and even officials and scorekeepers learning the rules.
Yes, the inaugural season is underway for the state's only NCAA Division II men's and women's lacrosse program. This coming Saturday, the men travel to Mars Hill University in North Carolina for their first game, and the women host Ohio's Urbana University for their first home game in Key Stadium.
Both teams play March 5 in a home doubleheader. If you need to bone up on your lacrosse knowledge before then, the Department of Athletics has scheduled two lunch-and-learn sessions with head coaches Greg Stocks and Jillian Howley from noon to 1  p.m. Feb. 25 and Feb. 29 in the Trustees Dining Room of Schwitzer Student Center.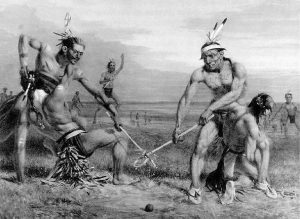 Historians say lacrosse — "lax" in current shorthand — evolved from American Indian stickball games that were first noted by European explorers in the 17th century. It remains a primarily North American game, with some activity in the U.K. and Australia.